VENUE & TRANSPORT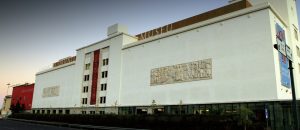 Venue: Fundação Oriente
Address: Fundação Oriente, Edifício Pedro Álvares Cabral Doca de Norte, 1350–352 Lisboa, Portugal
Brochure: PDF (20MB)
Location: Google maps
The nearest train station is Alcântara-Mar at the Cascais line. At the station there is an exit to the Museum.
From the airport: Take the bus to Cais do Sodré, or take the metro red line, direction S. Sebastiao, change at Alameda St. to green line till Cais do Sodré.
At Cais do Sodré, take the train Cascais line until Alcantara-Mar station (2stops)
Buses and tramways: 12 – 28 – 714 – 738 – 742 
15E – 18E
GPS: X 38º 42′ 09N
Y 9º 10′ 20W
Parking: There is a public parking place by the Museum.












TRANSPORTATION TO LISBON
Coming soon.